The Big Fix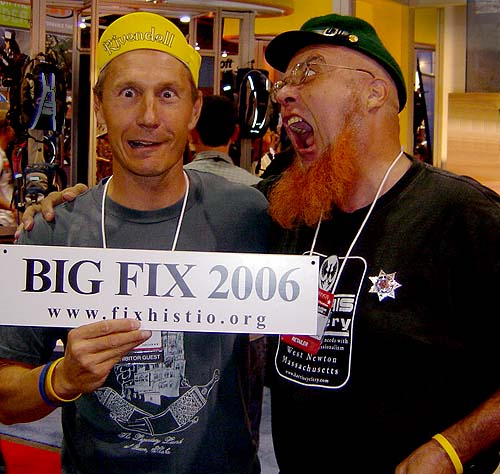 Sheldon Brown offers gentle encouragement to Michael (Mojo) Cosgrove


Across the USA In One Gear!

Where:

Davis, California to Boston, Massachusetts

What:

A cross-country bicycle ride, using primarily single-speed, fixed-gear bicycles, averaging 120 miles per day.

When:

June 17 - July 14, 2006 (28 days)

Who:

Now soliciting riders for the entire trip, and shorter legs of the journey. Full journey riders will be asked to raise funds to help defray costs of the ride, and benefit histiocytosis research and treatment.

Why:

Langerhan's Cell Histiocytosis (histio) is a rare condition afflicting children and young adults. It is so similar to cancer, that it is treated primarily by oncologists with chemotherapy and radiation. Since it is very rare, funding for research is severely limited. Donations for the ride will benefit the Histiocytosis Association of America.
I don't normally support "disease rides " but I'm making an exception for this one. --Sheldon Brown


If you would like to make a link or bookmark to this page, the URL is:
http://www.sheldonbrown.com/bigfix.html
Last Updated: by Harriet Fell