Search sheldonbrown.com and sheldonbrown.org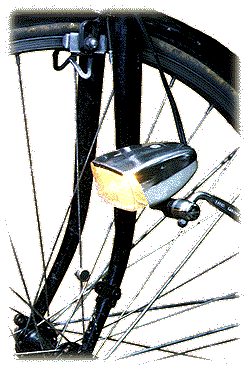 Articles about Bicycle Commuting and Lighting

and Marty Goodman
To invent, you need a good imagination
and a pile of junk. --Thomas Edison

Don't be fooled, reflectors are not enough!
Extensive "how to" site for the bicycle commuter.
Which is better for bicycle lighting...lead-acid or nickel-cadmium rechargeables?
Commercial page on the NiteRider line
The NightRider XCL Pro (a.k.a. Digital Pro 12)
Development of different types of bicycle lamps, focussing on the CatEye Stadium Light
Dynohubs are nifty electrical generators built into special bicycle hubs. They were made by Sturmey-Archer in England for several decades, but are no longer in production. Similar hubs are currently made by Sanyo and Union. Shimano makes one too, but it is not available in the U.S.
How to keep your bike safe without carrying un-necessary weight
An encyclopedic listing of bicycle lore, technical data and opinions.
Lots of good info for the would-be bicycle commuter.

If you would like to make a link or bookmark to this page, the URL is:
http://sheldonbrown.com/commute
Last Updated: by Harriet Fell