Prices rise! Sorry, but the weakness of the U.S. Dollar has caused a substantial price increase for Brooks saddles and other U.K.-made products.
In addition, the global increase in the price of titanium has caused an even higher rise on prices of the models with titanium frames.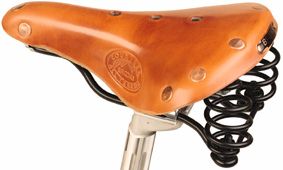 The Countess-Discontinued, sorry!
The Countess was the woman's version of the Conquest.

The Countess was most appropriate for cyclists who set their handlebars about the same height as their saddles, or perhaps a bit lower.

Countess BZL 354 (Black)/BZL 372 (Honey) $112.95

Length
235
Width
172
Weight

Brooks saddle tension wrench: $9.95 Handle with care! Brooks Proofide saddle dressing: SA001 $14.95

New! Click Here for Brooks Saddle Bags
See also the official Brooks Saddles Pages
Beware! Turn down your speaker volume first, this site makes horrible loud noises!



Since February 5, 2000
If you would like to make a link or bookmark to this page, the URL is:
http://harriscyclery.com/saddles/brooks-countess.html
Copyright © 2005, 2008 Harris Cyclery