Search sheldonbrown.com and sheldonbrown.org
Servicing Sturmey-Archer 8-Speed Hubs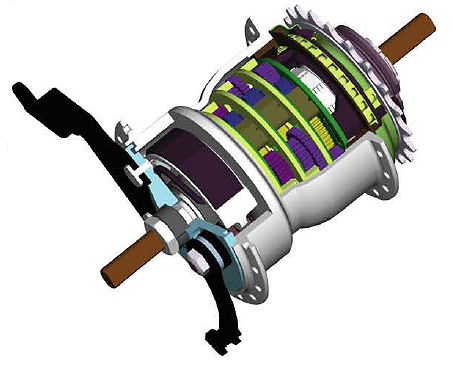 Cross-section of Sturmey-Archer X-RD8(W) 8-speed hub with drum-brake.
General information
Another article on this site covers topics common to many Sturmey-Archer hubs. Please read that article to learn about
There are also articles on this site more generally about


Gearing

he 8-speed Sturmey-Archer hubs have an innovative, modular design with 3 planetary systems one after the other. If a module's sun gear is locked to the axle, it gears up, and if not, the module operates at unity ratio. Each of the three modules has a different ratio. The eight possible combinations offer eight different speeds.
Because these hubs only gear up, they require a much smaller chainwheel than other hubs and are especially well-suited to a small-wheel bicycle. These hubs are most efficient in the lowest gear, which passes power directly from the driver to the hub shell, and least efficient in the highest gear, which uses all three modules.
Model designations include the letter F, for freewheeling; K for disc brake and D for drum brake. The discontinued X-RR8 was available with a fitting for a Shimano Rollerbrake. There is no coaster-brake model.
The ratios for the wider-ratio series introduced in 2009 -- model X-RF8 (W) etc. -- are:
| Ratio | 1.000 | 1.303 | 1.481 | 1.677 | 1.931 | 2.186 | 2.485 | 3.239 |
| --- | --- | --- | --- | --- | --- | --- | --- | --- |
| Step | 30% | 14% | 13% | 15% | 13% | 14% | 30% | |
The ratios for the first series of 8-speed hubs -- X-RF8 etc. -- are:
| Ratio | 1.000 | 1.281 | 1.450 | 1.644 | 1.858 | 2.106 | 2.384 | 3.054 |
| --- | --- | --- | --- | --- | --- | --- | --- | --- |
| Step | 28% | 13% | 13% | 13% | 13% | 13% | 28% | |
These numbers are based on gear-tooth counts.
Also see Sheldon's Internal Gear Calculator.
It is difficult for a simple planetary system to achieve a non-unity ratio near unity, and so the bottom step is large with these hubs. To avoid a large jump in the middle of the range, the large jump is used again at the top of the range. For this reason, it is best to set the second-highest gear as the level-ground cruising gear, around 75 gear inches (6.0 meters development, 5.5 gain ratio). Setting any lower gear as the level-ground cruising gear would make the top gear too high to be useful. On the other hand, if you ride in flatlands so you don't need any very low gears, your might use a larger chainwheel or smaller sprocket to get more gears in the level-ground gear range.
There is more detailed information on sprockets and on setting the gear range on another page. Also see Sheldon's take on setting the gear range for this hub, on his 8-speed Raleigh Twenty page. Different (pedal) strokes for different folks...
Technical issues
A few technical issues are important when specifying, installing or rebuilding these hubs:
The right-side ball ring unscrews counterclockwise from the hub shell, according to the most reliable . information we have. Sturmey-Archer has published information indicating both directions! This ball ring does not include a ratchet, unlike those of most Sturmey-Archer internal-gear hubs.
Reliability has been an issue with these hubs, though it appears to be improving with newer production.
These hubs are grease-lubricated and have no port through which oil can be introduced. Disassembly is fairly easy with the newer models. Oil can be added after unscrewing the left ball cup. These hubs should be disassembled and relubricated periodically. It may be advisable to reulbricate before installing a new hub: see advice here.
Stout antirotation washers should be used, preferably both inside and outside the dropouts. See advice here. Also, gear down and spin rather than pushing hard in a high gear. As the lowest gear ratio is unity, torque on the axle decreases, the lower the gear.
The sprocket is unlike the one used on most other internal-gear hubs. The center hole is much larger, and the sprocket is available only with 20, 23 or 25 teeth. The sprocket has three lugs and is held in place by a circlip (snap ring). The 20 and 23-tooth versions are flat; the 25-tooth version is also available dished.
The brakeless version is especially well-suited to older bicycles with narrow rear dropout spacing. By the choice of locknuts and by using the brakeless version of the hub, the overlocknut distance can be smaller than for any other internal-gear hub with 7 or more speeds -- as little as 115 mm.
If you're going to use rim brakes and a 130mm or 135mm overlocknut distance, get the "K", disc brake version rather than the "F" freewheel version. The "K" has a natively wider hub shell and better bearing placement. (Thanks to Prester John on the Geared Hub Bikes e-mail list for this advice.) But this version may also require a larger chainline.
Sturmey-Archer sells cranksets adapted to this hub, with tooth counts in the 30s, and designed to work with a full chain case.
These hubs shift with a pulley mechanism concentric with the axle inboard of the frame, and use different shifters from other Sturmey-Archer hubs. The newer (W) versions cleverly allow the pulley mechanism to be installed at different angles, so that only one type or antirotation washers is necessary, regardless of the angle of the dropout slots.


Technical information on current models (2009-)
The new wide-ratio models are very similar to discontinued models, but a different tool is used to remove the screw-in right ball cup (though a brass punch also may be used, and obviously, many of the internal parts are different). Technical information with a parts list is available as of September, 2012 for the XRD8 (W).
Technical information on discontinued models (ca. 2004-2009)
Technical documentation is available for these models.


Links


If you would like to make a link or bookmark to this page, the URL is:
http://sheldonbrown.com/sturmey-archer_8-spd.html
Last Updated: by John Allen