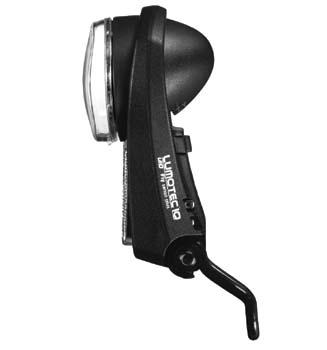 Model 174QNDi-04
LED bicycle generator headlight
The Lumotec IQ Fly, new for 2008, has a new optical system with a more efficient and brighter LED. All of the light from the LED is aimed backwards at the reflector, and then forwards to the road surface. This provides complete control over the focusing of all the light coming from the LED. The beam is sharply focused, with a sharp horizontal top edge, sides and bottom to the beam, brightest at the top, getting progressively dimmer towards the bottom, like the finest European automotive headlights. With all of the light being focused, there is less spill light outside of the focused patch than with most other headlights. So most of the energy produced by the dynamo, and by your pedaling, goes into making light that illuminates the road.

The result is an extraordinarily bright and wide patch of light ahead of you on the road. While many other dynamo headlights concentrate the beam into a narrow patch, so as to give you the brightest possible patch of light, the new IQ system uses such a bright LED that the light can be spread over a large surface area, and remain very bright. It also means that outside of that bright focused patch, there's less light than with the typical headlight.

Do not combine the IQ Fly with a secondary headlight. The IQ Fly is not compatible with my Secondary headlights. These LED headlights can be used with or without a wired taillight, but the LED will last longer if you use a wired taillight. The LED will get hotter if there is no taillight attached, and the increased heat will shorten the life of the LED.
with integral front reflector
No upward dazzling light to the rider
No loss of light caused by the integral front reflector
Tools are not required for cable connection and bulb changing
Integral bi-directional Z-diode prevents bulb failure through over voltage
Plug contacts for both current and ground

LT132B Lumotec IQ Fly N-Plus W/Standlight $71.95