Search sheldonbrown.com and sheldonbrown.org


1944-2008


I have always loved riding bicycles,
especially for the feeling of freedom and self-sufficiency that they give.
When I was a kid, the
Marblehead
town dump was one of my favorite hang outs, and I eventually noticed that there were lots of bike parts there. I had long done my own bicycle maintenance, with the help of a friendly bike shop owner, so I knew enough to be able to put bikes together out of parts from the dump.
This was a major source of spending money for me when I was in junior high and high school. I was (and am) a compulsive tinkerer, delighting in putting things together that were not made for each other.
In 1959, when I was a sophomore in high school I got my first "serious" bike, an Elswick "Tour Anglais", with 630 mm (27 inch) wheels, drop handlebars and a 4 speed Sturmey-Archer gear hub-very hot stuff for the place and time! I almost immediately made it into a 12 speed by adding a derailer and three sprocket cluster to it.
I took my first tour on that bike, from Marblehead to Alfred, Maine, about 120 miles each way. My scoutmaster and I did it two days up and two days back, including camping out in a graveyard the first night, for want of a better spot.
Also while in high school, I built my first tandem, by attaching two old Raleigh 3 speed frames together. The Mark I was held together by slipping the head tube of the rear frame over the seat post of the front frame, and lashing the front seat stays to the rear down tube with rope. This didn't work too well, so after a couple of weeks I went to a local welding shop and had them brazed together. It worked! I have since then built a dozen or so tandems this way, now doing my own brazing. I have an article about this on this site.
I apprenticed for a couple of weeks to a Chicago frame builder named Robert Myers, learned the basics and built myself a criterium frame from scratch. This was a very valuable experience, because I had been considering going into frame building as a profession. After a couple of weeks, I learned that the working conditions are not the way I want to spend my working life.
I have worked off and on in the bicycle business, primarily as head mechanic, at one point for a chain of 15 bike shops. I also have written extensively on (primarily technical) bicycle matters, first for Bike World, then for several years with Bicycling, and most recently American Bicyclist, a trade magazine that goes to every bike shop in the country. I wrote for them both under my own name and the nom-de-plume "Christopher Joyce." American Bicyclist was recently sold, and the new owners canned everybody, so I am between magazines.
I am tech guru and Webmaster of Harris Cyclery in West Newton, Massachusetts.


A selection of bicycle photos:
Istanbul, 1974
Typical of the bikes I saw in Turkey, this bike has no pedals (just the axles remain) and no brakes. Unusually, it has two tires, which both appear to hold air.
Paris, Montmartre, 1988 This wooden-wheeled antique was parked on the street.
London, 1989
This old delivery bike was solid with paint and rust, and had turned into a sign.
Someone fished this old Schwinn out of the Charles River. Although the spokes and most of the chain had rusted away to nothingness, the rear tire was still fully inflated! Can you explain it? I can.
This picture of the Green Planet Special 2 was taken in 1973 or '74.
Bridgestone Blouson, an unusual Japanese-market shopping bike.
This 1950's Renata tandem moped was my transportation when I visited a friend in Belgium for a couple of weeks in the mid '70s.
The second tandem I built, in the late '60's.
I couldn't always find a stoker.
Note, this position is very "aero."
Another of my homebrew tandems.
We got hitched December 2, 1979.
This lovely chrome Paramount belonged to a friend.
I built this tandem by brazing two BMX frames together.
The day before our hosteling trip to Cape Cod. The head transplants were not permanent.


Some of my bikes, in approximate order of acquisition:
| | |
| --- | --- |
| | This camouflaged Robin Hood was born a 3-speed, but became a 5-speed. It was my primary utility transport for several years in the 1970s. Click on it for more details and a larger ../image. |
I built this in the late '60's from two Raleigh Sports frames brazed together.
It was originally configured as a touring bike, but I later reconfigured it as a mountain bike. The chain tensioner is made from a kickstand and a rear derailer.
1954 Columbia 5 Star

3-speed/

drum brake springer

ballooner. An early off-road machine. I used to cruise the sand trails of the Cape Cod National Seashore on this bike, back in the '70's. It was kind of scary, because the old Sturmey-Archer AB

drum brake

was fairly pitiful.
1970s Moulton MK III
24 speeds: 72/47 chainwheels, Sturmey-Archer AW rear hub, 4 sprockets. I had the 72 tooth chainring made specially for the Moulton Deluxe that I used to own.

The Mk III was the only Moulton model built by Raleigh. It is considerably sturdier than the other "F frame" Moultons, but always felt heavier and slower to me. Part of this was likely the rear suspension, which uses a rubber ball as the shock absorber, and it's a bit too soft and too highly damped. I later learned a pretty good trick for improving this...wrap a worm-gear hose clamp around the ball, this provides an adjustment for the suspension.

This was the first brand new bike I ever owned, but I didn't keep it stock very long. The original rear hub had a pitiful small-diameter drum brake. I replaced this, and installed a Mafac centerpull on the rear triangle. There was no appropriate bridge for to mount a caliper to, so I brazed the studs to the stays. This made a Big improvement to the braking. John Allen has an album of photos of this bicycle.
1972 Peugeot PX-10
Originally a 10-speed, second from the top of the Raleigh line, the Reynolds frame is unusually light for its type, and it has nice chrome-plated Nervex lugs.

Newly reconfigured, it now features a Shimano Nexus 8-speed internal gear hub.

I used to have it set up as a fixed gear (42/15), with Scott AT-3 LF bars, Sun 14A rims, Campgnolo Record high-flange hubs, 28/24 spokes, Brooks Swift saddle, 165 mm Shimano 105 cranks (with a Biopace chainwheel, which most people will tell you is impossible...it isn't, it's merely improbable!


| | |
| --- | --- |
| | Road 5 speed with a T.A. 64 tooth chainring, 15-34 cluster. This bike originally had tubular wheels, but I later switched to 630 mm (27") wire-on. I courted Harriet on this bike, recently passed it on to my nephew and his bride. |
| | |
| --- | --- |
| This bike has a flip-flop hub with a fixed sprocket on one side, and a 2 speed freewheel on the other. This gives me three different gears, but I have to stop and move the chain (or reverse the rear wheel) manually to shift. It has 559 mm (26" mtb) wheels, Shimano 105 cranks, straight bars w/Haro add-on unit, Tommaselli motorcycle brake levers, walnut-grain contact paper finish, very strange indeed! | |
1970's Raleigh 20 (non-folding)
S-A 5-speed hotrod, aluminum rims and crankset, wild-looking Uni-disc wheel covers, front and rear, Mitsuboshi Comp Pool tires.
1958 Raleigh Lenton Grand Prix
Originally an 8- or 10-speed club bike, I rode this for a long time with a 1950 Sturmey-Archer ASC 3-speed fixed gear hub, alloy rims, modern tires; otherwise reasonably stock.

This bike is currently mothballed, because I took it's wheels and saddle to equip the E.G. Bates.
This is a 54 speed road machine. It was originally built to be used with a

kidback

, as in the photo, but my kids have outgrown this, so it now has a semi-conventional front crossover drive. The fork came from a Fuji

touring bike

, the Sturmey-Archer AW hub has 6 sprockets. The ../image shows us after the head transplants. These days this bike has

Scott AT-3 handlebars

in front.
1950's Raleigh Sports
Light 630 mm (27x1) wheels,
chaincase
, rare
Sturmey-Archer SW 3-speed
,
Flexstem
. A "Q-ship", this bike looks slow, but is fast. The SW hub is lighter, more efficient, and quieter than the normal AW model, and has a wider range. Unfortunately, this model had a very high rate of defective units, so they only made it from 1956-58.

Yet another fixed gear. This had a modified Haro BMX fork with an extended steerer, Zoom Brahma bars, Araya 7x aluminum rims with 28 mm Continental Grand Prix tires, Sugino cranks, Normandy large-flange hubs, Dia Compe BMX brake.

Featured in Bike Rod & Kustom E-zine!

The skinny 120 psi Continental tires were too jarring in the small wheel size, and, though this bike was quite fast for a folder, I found myself rarely riding it, due to the harsh, uncomfortable ride. I recently solved that problem by installing an SR suspension fork. It made all the difference, and since then this bike has been getting regular use. See my Raleigh Twenty Page


1930's Elgin
Balloon tire cruiser. I can't ride this 'til I get around to fixing the New Departure coaster brake.
1983 Repco
Nishiki Cresta--tourer built for the Australian market--Scott AT-4 pro bars, DX Rapidfire, 600 EX hubs, MA-40 rims, Uni-disc (rear). I bought the frame from an Ozzie who was on his way around the world. He traded it for a mountain bike, since he was heading for Africa. Cliff Meakin was the only cycle-tourist I ever knew to carry a classical guitar on tour. I thought this was silly, until I heard him play. Cliff, where are you now?
1954 Rudge
Originally a 4-speed, now a fixed gear rust bucket w/milk crate for shopping. Anyone who tries to steal it will likely suffer severe injury! The steel pedals are fairly sharp, and an unsuspecting thief would probably get cut to ribbons.
1992 Cannondale SR 800
"Black Lightning" Sun 14A rims 24/32, Sun Tour Command shift levers, Uni-disc.
1930's Torpedo
German. A bike built for cobblestones, with adjustable steering damper, unbelievably long wheelbase, incredibly slack angles.
1980-85 Univega MTB/Alan road mongrel
Heavy in back, light in front. This was put together out of junk parts, with the idea of using it for heavy shopping and errands. It is an older Univega MTB frame, with a big fat tire in back, a rear rack and double wire baskets. Since all the weight is carried on the back, I used light stuff for the front end: an aluminum Alan fork and a skinny 622 mm (700c) front wheel. It has "cowhorn" bars made by inverting a conventional drop bar and lopping off the parts of the bar that would normally point backward. This is a very strange bike, but I hardly ever ride it, mainly because it is stored in an inconvenient place below my front porch.
1960's Schwinn Paramount.
For a while I had this set up with Campagnolo Ergos and, Shimano derailers, just to see if it was possible.

Subsequently, however, I made it into a fixed gear. It came with an old-spec 151 mm BCD Campagnolo Record crankset, and I got a deal on a 26 tooth 1" pitch chainring for that BCD. It is currently set up with block chain...but still has the Ergo brifters on it, probably the only bike in the world with that combination of parts!

3-speed hotrod, drop bars, alloy wheels, work in progress.
Bridgestone CB-3
This is a special bike for snowy conditions. This started out as a bottom-of-the-line Bridgestone mid '80's CB-3 "city bike". I took off all the gear stuff, and the rear brake. I screwed a 15 tooth track sprocket onto the steel hub, which lines up nicely with the 28 tooth ring on the triple crankset. This gives me a 3.63 Gain Ratio (49" / 3.88 m) which is high enough for as fast as I would want to go on a snowy road. The cheapo Taiwanese cantilever brake is operated by a cool Campagnolo brake lever I got cheap at Bicycle Classics. Actually, however, with a fixed gear this low, the brake is only rarely used: The low gear gives extra "braking" leverage to my legs, as well as limiting the top speed of the bike.

It has old-fashioned mtb tires with big squarish knobs that seem to work quite well on snow-covered pavement.
Mid '70's Peugeot PX-10
This isn't as pretty as my "PX-7", because it has plain lugs instead of the baroque Nervex lugs on the older frame. For a while I was using this as a 10-speed, with a pair of "moustache" handlebars, with old Sun Tour barcons. I really didn't find the moustache bars that comfortable, so I didn't ride this bike very much. I have converted it into a hybrid, using Scott AT-3 handlbars, Sram ESP Grip Shifts and Derailer, Shimano 105 SC hubs with Matrix æro rims, Sun Tour X-1 crankset, Ritchey Tom Slick 32-622 tires, Brooks B-66 Champion saddle. It currently is a 27-speed, with a 12-28 cassette and 28/38/48 chainwheels. It required a bit of fiddling to get the GripShip ESP derailer system to work with the 9-speed cassette, but I did it, and it works. I have been riding this bike a lot lately, I finally feel that I have it dialed in for me. In its present configuration, it offers a nice balance of comfort and performance, leaning a bit in the comfort direction, but still quick and fun to ride.
1990? Bianchi Brava
Japanese Bianchi road bike, originally came with with Shimano Santé derailers...early 7-speed setup. I built up a pair of rather light tubular wheels for it, just for the retro-kick (and 'cause the rims and tires were free!) It's not that retro, though, 'cause it's got Ultegra STI shifters with an Erickson "Gizzmo" triple adaptor, and 28/38/50 Biopace chainwheels. It is now a 24-speed, with a 12-25 cluster, STX rear, modified RSX front derailers.


1962 Moulton Stowaway fixed-gear
This is a first-generation Moulton, one of the models which was designed to take apart into two pieces. It originally came with all steel parts, cottered cranks, a coaster brake and a front caliper brake.

I replaced everything but the frame, headset, and luggage racks, using modern aluminum parts. It has a 53/12 fixed-gear, which is not as impressive as it sounds, since it has 349 mm (16 x 1 3/8") wheels.
My oldest bike, mostly dating to the time of The Great War.

Originally built for wood rims and 28" single-tube tires, mine's got modern-ish 27 inch wheels, and is surprisingly fun to ride, with a 26/8 fixed gear.
A work of art, this frame combines characteristics of a track bike (rear-opening fork ends, round fork blades) with characteristics of a road bike (fender eyelets, lots of tire clearance, drillings for brakes and general road geometry.)

It has very ornate lugwork.

I had it set up with the Sturmey-Archer ASC 3-speed fixed gear hub that used to be on my Lenton Grand Prix.

I have a separate page about this bike.

In 2005 I stripped this frame down and put the ASC wheel on my Gunnar Street Dog . Haven't decided what to do with the Bates frame, which is really too small for me.
| | |
| --- | --- |
| | I've lusted after one of these for many years, finally found an affordable frame in my size on Bay! Purists will be aghast at some of the parts I've put on it, but I don't care, they don't have to ride it. |
My first 21st Century bike. Have I gone over to The Dark Side with this dual-suspension, hydraulic disc braked motorless motorcycle?

Most people think of me primarily as a road cyclist, but this isn't strictly true. I've gone through periods in my life when I've done a lot of off-road cycling, and others when I stick to the roads. Lately, i.e., the last decade or so, I've been pretty much a pavement rider, but maybe my new bike will inspire me to get dirty more often. In any case, I like to keep up-to-date with bicycle technology, and I got a great close-out deal on this high-tech Raleigh.
Bianchi B.a.S.S.
Singlespeed Mountain Bike built up from a bargain frameset, an absolute joy to ride.

This bike has a flip-flop hub with a fixed gear on one side, a two-speed freewheel on the other.

This frame inherited the parts formerly residing on my Bianchi Osprey frame.
A wrecked and ruined 1974 Raleigh Professional, rendered better than new by Brian Baylis, including a "heart transplant."

It is set up as a fixed gear with anachronistic parts. A thing of beauty and a joy to ride.
This bike is a sort of homage to the classic black Raleigh Sports/Superbe, attempting to put its spirit into a higher-tech bike, with superior materials and technology.
Click here for more.
Lugged steel frames are not obsolete! This beauty was made in 2002

Thanks to the new White Industries eccentric hub, I was able to rig this up as a fixed gear even though it has vertical dropouts.

However, after I got my Quickbeam , this was redundant, so I made it into a 7-speed, probably the retroest Rambouillet going, with its 27 inch wheels and down tube shifter!
| | | |
| --- | --- | --- |
| | | Aluminum frame, originally a fixed gear, now with Shimano Nexus 8 speed hub, and 584 mm (650 B) wheels. |
This damaged-in-shipping frame is a new home for the parts that had been on my Cannondale fixed gear.

Just as a hack, it is set up with the chain on the left side.

It features an unusual headlight mount, using the lowrider boss on the fork.

New! Now with Sturmey-Archer ASC 3-speed hub, still driving on the left! Click here for more.
I've been a fan of fixed-gear bikes for many years, generally preferring "road" geometry but with some trackish features. In many ways the Quickbeam from Rivendell is the answer to a longstanding dream of mine.

It is designed specifically as a high-performance single-speed machine, without any derailer-related doodads, but unlike track bikes, it has geometry and tire clearance that make it very versatile and comfortable for road use or even off-road as long as the trails don't ge too "technical."
My first recumbent, also my first adult tricycle.

This thing is an absolute blast!
| | |
| --- | --- |
| A newfangled "Performance Comfort Road" bike, part aluminum, part carbon fiber. My first such bike, also my first with a 10speed rear end, first with a two-piece crank, first with 31.8 handlebars... | |

Bikes I no longer have:
Unfortunately, my health condition has crippled me so that I can no longer ride a bicycle. As a result I've had to start selling off some of my babies.
The Thorn Raven is a heavy-duty touring bike built around the fabulous Rohloff Speedhub 14 speed rear hub.

This bike also has two sets of handlebars, for an unusually wide choice of hand positions.

I sold it in July, 2007 to a cyclist from Louisiana.Read all about it!
I was the only kid on my block with a fixed-gear tandem! This tandem originally came with Campagnolo Record/Nuovo Record road parts, and the previous owner sold it to Mike Kone's Bicycle Classics. They "parted it out" and put the frame on the floor with a sign that said "Ride it if you dare!" My kids had outgrown the Cinelli BMX bike that each of them had used for a while, so Mike and I traded frames. I hope he has as much fun with the Cinelli as I have been with the Piccio.
Blasphemer that I am, I built it up with Shimano 105 cranks (165 mm arms, Biopace chainrings all around.) and 105 SLR single-pivot brakes (the finest caliper brakes ever, in my opinion.) With Mathauser brake shoes, the braking is quite good, especially since I built it up with 630 mm (27") wheels, which shorten the caliper reach by 4 mm. It is made of Oria tubing, with strange creases down some of the tubes, which, I presume, are intended to stiffen it up. I was skeptical about the open rear parallelogram frame design, but it seems quite stiff despite the lack of triangulation.

I sold it to a cyclist in Los Angeles in June, 2007. This was the first bike I had to part with due to my health problems, and it was very hard to say goodbye to it.
1940's 20" wheel Rollfast sidewalk bike
I'm riding this in the family photo, extreme left.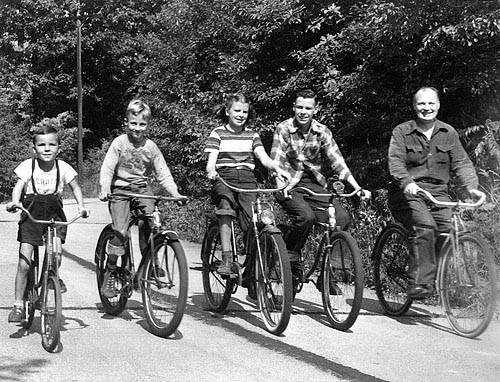 1940's 24" wheel Rollfast Balloon tire
A hand-me-down from my sister, this was my bike through most of my childhood. Considerably too large for me when it came to me, probably when I was about 8, I continued to ride it into junior high school. I stripped all of the non-essential parts off of it, repainted it with red lead marine paint. My cousin Buzz is riding it in the photo above, second from left.
1950s J.C. Higgins 3-speed
This Austrian bike, originally sold by Sears, was my first multi-speed bike, and the first bike that I put together from parts scrounged from the town dump. It only had a rear hand brake, but it was a considerable improvement over the Rollfast. (Although I still kept the Rollfast for riding in the woods.) This bike meant more to me than any other bike I've owned since. I have a whole article about this bike.
Elswick Lincoln Imp
A better bike than the Tour Anglais, but with less sentimental value. This bike came with a flip-flop hub, and was the first bike I ever set up as a fixed gear.
Raleigh/Raleigh home-built tandem.
I built my first tandem while I was in high school. You can read about it on my page on Home Building Tandems.
'50s Dawes
Four speed derailer, 597 mm (26 x 1 1/4) wheels, fillet brazed. I toured from Boston to Harrisburg, Penna. on this in the early '70s. Had a spoke breakage problem around Stroudsburg, due to rusted-through spokes. No bike shops in the area had a freewheel remover, so I bought some longer spokes and got a welding shop to braze the new spokes to the broken-off old ones. Ugly, but it worked.
Early '60s Moulton Standard
My first Moulton, it had a Sturmey-Archer 3-speed coaster brake. Disappeared after I got hit head on by a VW bus, breaking my collar bone.
| | |
| --- | --- |
| Originally a 4-speed Sturmey-Archer, I converted the hub to 5-speeds, added a 4-speed cluster and double chainwheel. I took this on a solo guerilla camping tour from Boston to Montréal in 1969 or thereabouts. | |
Early '70s Raleigh 20
1940's Gnôme-Rhône
| | |
| --- | --- |
| | This 1950's Gnôme-Rhône was made of aluminum tubes riveted into steel lugs. The manufacturer was an old French aircraft builder. The frame was falling apart, it was partly held together by hose clamps. I converted it from a 3-speed to a 12 speed, to use as my mountain bike while I lived in France. |
The first of many

Raleigh 20s

I've owned; I bought this one used in the early '70s, and did many modifications to it over the years. In this photo, it was still fairly stock, except that I'd converted the 3-speed hub to 5-speeds, extended the seatpost, and installed Lyotard

platform pedals

and a Brooks B66 saddle.

I did quite a lot of off-road riding on this bike, before real mountain bikes became available. Later in its life, it acquired aluminum rims, Cinelli handlebars and stem, a Campagnolo Nuovo Record crank set, Phil Wood bottom bracket, and other goodies. I sold it for $300 in a weak moment...
1985 Fat Chance

This one was probably built by Gary Helfrich. It's a bit small for me, but I got a good deal on it used, and the top tube is my

ideal 22" size

. It has a Tioga

elastomer

fork, and a

Brooks

Conquest saddle

I gave this one to my brother.
1970's Motobécane Grand Record
| | |
| --- | --- |
| | 10 speed-Stock: Campagnolo NR gears, TA 3-arm cranks, all 531, Nervex, Super Champion 58, Normandy HF Luxe Compétition hubs. One of my greatest yard-sale finds. I sold this bike in August, 1999...it was just that much too big for me. |
1954 Raleigh Superbe Roadster
This is a classic British roadster, with 635 mm (28 x 1 1/2) wheels, rod brakes, full chaincase, lock built into the fork (I even had the key!), Brooks B-73 3-spring leather saddle, and a Sturmey-Archer 4-speed Dynohub. When I rode this bike, I feel as if I ought to be wearing a tweed jacket and smoking a briar pipe! I didn't ride it much, though, because the brakes were rather pitiful, and I was terrified of getting a rear flat...between the Dynohub wiring, the rod brake, the chaincase and the Sturmey-Archer cable, removing and re-installing the rear wheel could be an all-day job!

I have a separate page about this bike.
Rochet "Super Special" touring bike

This beautifully-preserved classic French tourer dates from 1958, had some very unusual and choice parts.

If only it were a bit larger!
Bianchi Osprey fixed-gear MTB

An bit of an experiment. This bike has truly vertical dropouts, but I wanted to set it up with a flip-flop hub: fixed gear on one side, two-speed freewheel on the other. The vertical dropouts didn't allow chain tension adjustment because the axle was a snug fit in the slot. I solved this by cutting the axle off short, so that it did not extend past the cone locknuts. Only the quick-release skewer went through the dropouts. Since the skewer is thinner than the axle, this allowed some front-to-back adjustment. I never had any problems with this unorthodox rig, but I carried a spare skewer, just in case.

When I got a good deal on a Bianchi B.a.S.S. frame on closeout, I moved the parts from this bike to the lighter, more versatile B.a.S.S.
1993 Cannondale ST 500
Fixed gear rain bike, all black w/fenders, Dia Compe brake (front) 630-25 (27x1) Avocet slicks, Scott AT-3 LF handlebar.

I discarded this frame when I acquired my Gunnar Street Dog, which inherited the parts from the 'Dale.

My family's bikes
My wife,
Harriet Fell
is a hard-core roadie; she never rides the mountain bike I gave her. She has: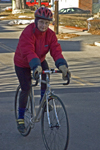 Harriet Fell track bike
When she was a math professor at Northeastern University in the early '70s, she built this aluminum frame in an M.I.T. I.A.P. project (M.I.T. Aluminum Bicycle Project 1974), but never finished building it up. This is one of the first fat-tube aluminum bikes, and, in fact the frame was an important exhibit in the legal proceedings between Cannondale and her classmate Gary Klein.

I assembled it for her in 2005.
'70's Holdsworth touring bike
Harriet did extensive touring in France on this bike before we met. She was the second American woman to complete the legendary
Paris-Brest-Paris
ride, in '75 She was riding it when I met her, on a
Charles River Wheelmen
ride.
'70's Bottecchia road (fixed gear)
This bike has been converted to fixed gear with Phil Wood track hubs. (She caught the fixed-gear disease from me.) This is the bike she used to ride 95 percent of the time, especially when commuting. It now lives in our son's apartment in Madison, Wisconsin.
1983 Raleigh/Raleigh homebuilt tandem.
18 speed former kidback, sized for Harriet to pilot.
GT Pro Performer Freestyle Bike
I gave it to her for her 45th birthday.







We have two kids, who used to ride:
Cinelli BMX
Both kids, in turn, used to ride this cool Cinelli BMX frame we used to have. I built it up with mtb-type bars and a 3-speed Sturmey-Archer hub. When George outgrew it, I traded the frame for the Piccio tandem frame.
Kid-Kid tandem
Two BMX frames brazed together (Diamondback Viper, Mongoose M-1.) The keel tube is electrical conduit. 6 speed Sturmey-Archer hybrid. They got it up to 36 mph once when we were vacationing in Québec!
My daughter Tova has:
'86 Fuji Del Rey
A sport touring bike, with 105 drive train (except for the black Nuovo Record cranks) and RSX STI brifters.
'60's Schwinn Hollywood
A cruiser that I found in the trash in 1995. This bike created a bit of a mystery in the winter of '97...One day, I noticed that the handlebar stem had been raised up above the "minimum insertion" mark, but, since it was the middle of winter and the bike was not being used, I didn't do anything about it right away...but I wondered who had been tinkering with it...had a neighbor borrowed it? (This bike lives outdoors in my back yard.) A few days later, I was passing by and noticed that the handlebars and stem were missing! On looking closer, I found them lying in the snow next to the bike; on looking even closer, I found that the steerer was solidly filled with ice! That was what had raised the stem, rainwater getting into the steerer, then freezing and expanding, had inexorably raised the stem until it fell right out!
My son George used to ride:
Astra (Motobécane)
A low-end 10 speed frame that I built up for him as a road bike, with Shimano indexed barcons.
early '80's Schwinn King Sting
One of the few Chicago Schwinn mountain bikes. Actually, the frame is more like an overgrown BMX bike, but it is a 12 speeder. This bike really belongs to his mother, but he rides it more than she does.
Royce Union
Child-size high wheeler, with a 28" front wheel and a 16" rear. This probably dates from the '50's. Lately he's been riding my Hercules.

If you would like to make a link or bookmark to this page, the URL is:
https://sheldonbrown.com/org/bicycle.html
Last Updated: by Harriet Fell