Adjusting Your Stem Height
Traditional Expander/Wedge ("Quill") Stems for Threaded Forks
Threadless Steerer Systems


Threadless Without Spacers


Stem Compatibility
Stem/Fork Compatibility
1 Inch threaded headset
(common traditional size)

(7/8" Quill is noticeably smaller
than a U.S. Quarter)

1 1/8 Inch threaded headset
(rare size, mostly 1990s bikes)

(1" Quill is a teeny bit larger
than a U.S. Quarter)
Headset sizing
Threaded Headsets/Steerers
in order of frame cup outside diameter, crown race inside diameter, steerer O.D., and threads per inch --
the dimensions which affect headset compatibility with frame and fork.
Crown race seat of fork can be milled smaller, frame bearing seats milled larger.

Standard
Frame Cup
Outside Diameter
Crown race
Inside diameter
Steerer O.D in mm
Threads
Per inch
Stem diameter,
Steerer I.D.
Notes
1" J.I.S.

30.0 mm
27.0 mm
25.4 mm
24
22.2 mm (7/8")
Older or lower-quality bicycles from Asia. Can be milled to ISO standard.
1" ISO Standard

30.2 mm
26.4 mm
(varies)
25.4 mm
(varies)
24
22.2 mm (7/8")

This is the standard 1" size.

1" Professional/
Campagnolo
30.2 mm
26.4 mm

25.4 mm
24
22.2 mm (7/8")
Obsolete. Threads are cut at 55 degrees, but an ISO headset can be used.
1" Raleigh

30.2 mm
26.4 mm
25.4 mm
26
22.2 mm (7/8")
Proprietary size used on Raleighs made in Nottingham, England
1" Italian
30.2 mm
26.5 mm,
27.0 mm
25.4 mm
24
22.2 mm (7/8")
Obsolete. Threads are cut at 55 degrees, but an ISO or J.I.S. top headset can be used. Fork can be milled to ISO.
French
30.2 mm
26.5 mm,
27.0 mm
25.0 mm
25.4
(1 mm)
22 mm
Obsolete. French steerers usually have a flat filed on the back, rather than a grooved keyway as with other threaded systems. The bottom headset parts wear faster; you can replace them with ISO parts and use the old top headset.
East German (DDR)
30.6 mm
26.8 mm
(1 1/8")
26 mm
26
22 mm
Very similar to or the same as Austrian. 0.2 mm discrepancy may result from measuring the I.D. of the head tube (press fit). See page on German site.
Austrian

30.8 mm
26.7 mm
26 mm
25.4
(1 mm)
22 mm
These are found on bicycles sold by Sears, made by Steyr in Austria. Higher quality Austrian bikes use English/ISO.

BMX/ O.P.C. bikes
32.6 mm
(varies)
26.4 mm (varies)
25.4 mm
24
21.15 mm
(.833")
Used mainly on bicycles with one-piece cranks, also some early mountain bikes.
French Tandem
Let us know, if you do!
28 mm
Let us know, if you do!
25.4
(1 mm)
22 mm
Obsolete and rare.
1 1/8"
34.0 mm
30.0 mm
28.6 mm
26
25.4 mm (1")
"Oversized" (This size is more often used for threadless systems.)
Moulton
30 mm top,
36.4 bottom

33.0 mm
25.4 mm
24
22.2 mm
(7/8")
Moulton Mark III and earlier. Top headset is standard ISO.
1 1/4"
37.0 mm
33.0 mm
31.8 mm
26
28.6 mm (1 1/8")
Mainly used on tandems


Threadless Headsets/Steerers
Size/Stem diameter
Steerer O.D.
Frame Cup
Outside Diameter
Crown race
Inside diameter
Notes
BMX/O.P.C
32.7 mm
26.4 mm
Used mainly on bicycles with one-piece cranks.
1" ISO Standard (25.4 mm)
30.2 mm
26.4 mm
This is the standard 1" size.
1 1/8" (28.6 mm)
34.0 mm
30.0 mm

Most newer mountain bikes use this size.

1 1/4" (31.8 mm)
37.0 mm
33.0 mm
Mainly used on tandems
1.5" (38.1 mm)
49.6 mm
39.8 mm
Proposed OnePointFive standard for downhill and freeride applications.
Stem/Handlebar Compatibility
Handlebar dimensions
Stem Clamp
Size
Grip Area
Size
Application
22.2 mm
7/8"
22.2 mm
7/8"
Steel bars. Mainly BMX, older Mountain bike bars.
23.8 mm
15/16"
22.2 mm
7/8"
Obsolete British size for steel handlebars, common on older 3-speeds.
This size was also used for older British steel drop bars.
25 mm
23.5 mm
Obsolete French size.
25.4 mm
1"
22.2 mm
7/8"
Standard I.S.O. size, used on the vast majority of newer bicycles with upright handlebars.
This size was formerly common for steel drop bars.
25.4 mm
1"
23.8 mm
15/16"
Standard I.S.O. size, used on most bicycles with drop handlebars.
Also used on older British aluminium upright handlebars.
25.8 mm
23.8 mm
15/16"
Unofficial in-between size used by some Italian handlebar makers for handlebars designed to be usable in either ISO (25.4) or Italian (26.0) size stems.
26.0 mm
23.8 mm
15/16"
Italian standard for drop bars, other bars made to fit Italian stems and some high-end aftermarket drop bars.
This is sometimes incorrectly called "road" size.
26.4 mm
23.8 mm
15/16"
Older Cinelli and Cinelli copies. Cinelli changed over to 26.0 mm in 1998.
27 mm
23.8 mm
15/16"
Titan (obsolete).
31.8 mm
1 1/4"
23.8 mm
15/16"
Road oversized.


"Pop-Top" Stems
Dimensions, and Comfort
Measurements
Reach
Rise
Adjustable Stems
Height
Steerer extenders
Danger!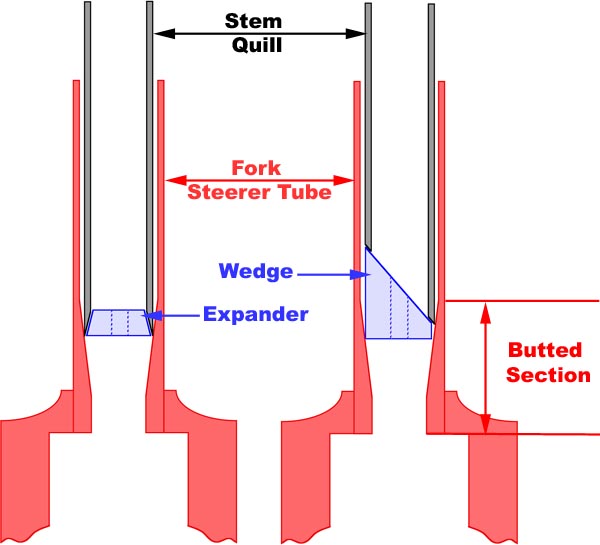 Illustration by Nicholas Flower