<!- flooble ->

In West Newton Since 1952 - On The Web Since 1995
Singlespeed Central!
Chain Tensioners | Cranks | Freewheels
Hubs | Nuts & Bolts| Sprocket Spacers | Wheels

Singlespeed MTB hubs are similar to BMX hubs, but are wider. These hubs use 135 mm spacing, rather than the 110/120 mm of BMX/track hubs. They also have considerably wider chainline than conventional one-speed hubs.

Most of the hubs on this page are for "mountain" type singlespeed/fixed gear hubs, approximately 52 mm chainline, 135 mm spacing.

Click here for "track" type hubs, chainline, approximately 42 mm, frame spacing 130 mm or less.
Splined Version Only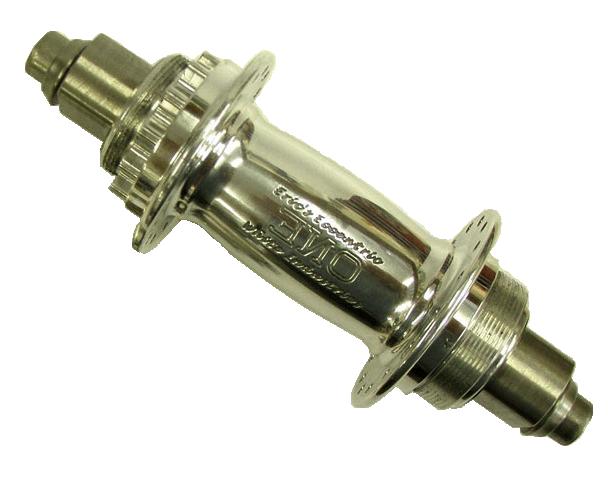 This the most exciting development of the century for singlespeed fans!

These hubs feature an eccentric axle mount, finally allowing easy conversion of your existing mountain bike to singlespeed or fixed gear without the need for kludgy chain tensioners! The eccentric axle permits 15 mm of total adjustment (plus or minus 7.5 mm.)

They are available in 135, 130 and 126 spacings, and feature a 47.5 mm chain line (lines up with the middle ring of a standard MTB crankset, or with the cog flipped over, it will line up with the outer ring of a typical road double.

Coaster Brake Hubs
Coaster brake hubs apply the brake when you turn the pedals backwards. Most children's bikes in the U.S. come with coaster brakes, but they are not all that practical.

Coaster brakes make it difficult to start up, because they don't permit you to rotate the pedals backward to get into a good starting position.

Coaster brakes are generally quite reliable, but when they fail they tend to fail suddenly and completely. As a result we do not recommend relying on a coaster brake alone for braking--you should also have a hand brake, preferably working on the front wheel, so there will be a backup system in case the chain breaks or derails.

Shimano Single Speed Coaster Brakes $29.95

Shimano is the best currently available. Supplied with 16 tooth sprocket, other sprocket sizes available on this page

Fixed-gear/track hubs are also quite suitable for singlespeed freewheeling bicycles. Any standard track hub will accept a one-speed freewheel with no modifications required. Track hubs are listed on our separate Fixed Gear Hub Page.

Track hubs are a good choice for converting a road frame to singlespeed, but they are not so good for mountain bike conversions. Track hubs usually require axle replacement to fit the standard 135 mm spacing of MTB frames. In addition, the closer-in chainline of track hubs (typically 41-42 mm) won't work with most MTB frames. The wide chainstay spacing forces the chainring too far out, unless you use a very tiny chainring. Most of the singlespeed hubs shown on this page have a 52 mm chainline, which lines up with the outer position on a typical MTB triple crankset.

Single-speed Freewheels
A single-speed (BMX) freewheel is a modular unit, consisting of a single sprocket and its associated freewheel (coasting) mechanism. These have standard 1.37" x 24 tpi threads, and fit on any hub that takes a thread-on freewheel. This includes BMX hubs, track hubs, and multi-speed freewheel hubs.

Shimano one-speed freewheels $39.95

The standard of the industry. They come in 16, 17 & 18 tooth sizes, and will work with either 3/32" or 1/8" chains.

Use Park FR-6 tool to remove. No tools needed to install.






New! Excess Components one-speed freewheels $24.95

Excess 20 tooth Freewheels FW121 $24.95

Excess 22 tooth Freewheels FW123 $24.95

Use Park FR-6 tool to remove. No tools needed to install.

New for 2011.

Cold forged from 4130 chromoly
3 heavy-duty fast engaging/releasing pawls
30 Points of engagement for an instant and reliable start every time
Show chrome finish on the outside, titanium finish in the center
8-spline body for weight savings and easier removal with standard 4-prong tool.

Designed for 3/32" chain, but it also works with the wider 1/8" chain.

White Industries ENO Freewheels $89.95

Use Park FR-6 tool to remove. No tools needed to install.

The ne plus ultra of freewheels!

These are made in U.S.A., and their quality puts all others to shame. Most singlespeed freewheels have a 20 tooth ratchet, with only two pawls to take the load. White Industries freewheels have a 36 tooth ratchet for minimum slack, and 3 pawls for reliability and durability.

Also feature O-ring seals to keep the innards clean even in nasty muck!

Sizes 16, 17, 18, 19, 20, 21, 22 & 23 teeth.

Heavy duty Trials model, 18 teeth only $109.95

The trials model has 6 pawls, two groups of 3 engaging alternately. This is the state of the art for the rigors of trials riding.

Case hardened CroMoly steel, electroless nickel plated.

Dos Eno Double Freewheel, 16-18 teeth or 17-19 teeth $119.95

Double sprocket freewheels give you a choice of gears like a flip flop hub, only you don't need to remove the wheel!

Case hardened CroMoly steel, electroless nickel plated.

Use Park FR-6 tool to remove. No tools needed to install.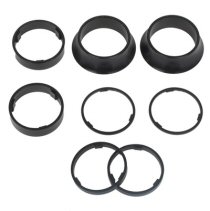 Origin8 Spacer Kit for Freehub ® Singlespeed Conversion $19.95
Note: New version features two conical spacers that will keep cog more rigid.
Place cog between the flared ends of conical spacers.

If you have a couple of old, worn-out cassettes lying around, you can probably take them apart and scavenge enough spacers to convert your hub to singlespeed.

If you don't, we've got a ready-to go set, enough metal spacers to convert any 7- or 8-/9-/10-speed Freehub to single speed, using your old lockring.

Just stack the spacers up around a single sprocket and you're good to go.

Some companies sell spacer kits that consist of just two spacers, which looks a bit prettier, but doesn't have the versatility of our spacer stacks, because our spacer kits allow you to set the rear sprocket chainline wherever it needs to be to match whatever chainring you use in front.

Chain Tensioners
For running a single-speed drive train or internally-geared hubs on frames with vertical or semi-vertical dropouts. These attach to the derailer hanger of most frames.

These pulley-type tensioners work, but they are a bit of a kludge, since they do cause your singlespeed chain to bend around a pulley. A much better solution for singlespeeding with vertical dropouts is the White Industries ENO eccentric hub.
Note! Chain tensioners cannot be used with fixed-gear or coaster brake systems!
They don't maintain tension when there is backward force applied to the pedals, and the chain can derail as a result.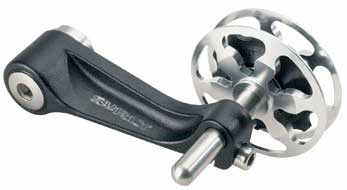 Surly Singleator $49.95

Includes left and right springs for versatile positioning
Mounts on derailer hanger
Floating pulley adjusts to accommodate most cog positions
Fits cogs up to 22 teeth






Shimano Alfine Chain Tensioner $32.95

Dual pulley design
Allows for longer chain (for easy wheel removal)
More even chain tension
Fits cogs up to 23 teeth






Surly Tuggnut Chain Tensioner $29.95

Mounts on track end (Dropout)
Can be used singularly or in pairs
Fits 9.5mm (3/8") Axle
Doubles as a bottle opener!

Nuts & Bolts
Single Stack Bolts $6.95 set of 5

It looks really goofy to ride a fixed gear with a useless extra chainwheel on your crank. These track-style stack bolts are the right length to hold a single chainwheel to your crank. They fit all modern cranks.

3 mm Chainwheel Spacers $2.95 set of 5

For budget road-to-fixed conversions, a quick and dirty way to make the chainline work is by spacing the chainwheel inward from the crank spider.

This is especially useful if you're using a hub made for a multi-speed freewheel, because it reduces the amount of re-dishing required.

Why should you want a one-speed bicycle
that won't let you coast?
Read all about it!

If you would like to make a link or bookmark to this page, the URL is:
http://harriscyclery.com/singlespeed

Copyright © 2005, 2008, 2010, 2011, 2012 Harris Cyclery