| | |
| --- | --- |
| Search sheldonbrown.com and sheldonbrown.org | |

March 4, 2000
M.I.T.G.A.S.P. third anniversary reception. M.I.T.G.A.S.P. was actually founded in 1988, but the official date was February 29th, so the anniversaries are 4 years apart, in tribute to a central plot device of The Pirates of Penzance.
March 5, 2000
The fifth in the "Worldwar" series, following Colonization: Second Contact, and the second to be set in the 1960s, after the stalemate with the Lizard invaders has led to 20 years of uneasy truce. This has less fighting and more politics than previous volumes. An enjoyable continuation of a marvelous series...I eagerly await the next volume.

I bought a SoundJam MP3 encoder off the net, and hope soon to be able to add MP3 music to some of my Web sites.
March 7, 2000
The first in a very popular series of novels about an English family vacationing in the Lake District. The 4 siblings: Roger, Titty, Susan, John, ranging from 7 to perhaps 12 explore the lake in the 14 foot dinghy "Swallow" and have various adventures whilst their father is off at sea in the Royal Navy.
March 10, 2000
Show: The Mysteries, at the Boston Center for the Arts Cyclorama.

A joint production of Revels and Shakespeare & Company.
March 11, 2000
Jerry Lettvin's 80th birthday party at the M.I.T. faculty club. A grand time was had by all.
March 12, 2000
This is a fairly bald attempt to write a '90s Heinlein juvenile.

It is the early 22nd century, and Earth is falling to pieces with a population of 17 billion. A divorce-wracked dysfunctional family with 3 sons is being torn apart as the father takes the sons to the space elevator and up with intent of emigrating to an off-world colony. Most of the action takes place on the "beanstalk", a series of brobdinagian cables running from Peru to geosynchronous orbit and beyond. The characters are uniformly unpleasant. I did enjoy some of the musical references...dad is an orchestra conductor, and the 13 year old protagonist spends as much of his time as possible listening to Copland and Coltrane on his earphones. An homage to the Heinlein juveniles is a reference to the idea of children divorcing their parents--this concept got Heinlein in trouble with his publisher in The Star Beast.
March 19, 2000
Book: Voyage to Eneh by Roland J. Green, 2000

This is touted as "A thrilling novel of military science fiction." It caught my eye at the library, so I took it home. It is set on a distant planet where the furry humanoid inhabitants have technology roughly equivalent to the late 19th century on Earth: steamships, telegraph, gatling guns, railroads, etc. A disabled starship from Earth was stranded on Kilmoyn 60 years ago, with some 10,000 humans (mostly as frozen embryos.) The Earth folk keep their superior technology secret, and have formed an alliance with an island republic that has a strong seafaring tradition.

The book is clearly intended as the first of a series. It starts rather slowly, with a lot of exposition. This is a necessary evil, not only to introduce the main characters, but also the complicated politics of Kilmoyn.

Once past the first half, the pace picks up, and it is a generally good read. I'll certainly be keeping my eyes peeled for the sequels.

Tor Books could have done a better job. The proofreading is very rough...can't remember a book with so many typos. It could really use some maps as well. It does have a handy glossary and "dramatis personae" list.
March 23, 2000
New gadget, a Palm III palmtop, with the BikeBrain hardware and software that turns it into the cyclecomputer to end all cyclecomputers. This is really a nifty gadget, providing a graphical speed profile for the ride, among other nifty things. There's also provision to download electronic cue sheets, so you can follow an unfamiliar route, with specific instructions popping up to tell when to turn and which way, as well as providing an elevation profile of the route. At present, available routes, at least around here, are a bit scanty, but the system seems to have great promise.
March 27, 2000
I've become inseparable from my Palm III; don't know how I lived so long without one! I downloaded a couple of novels and a bunch of games from the Web, so I'm never bored even when I have to wait around during the lulls in rehearsals and the like.
March 30, 2000
Finally received the copy of my great-grandfather's poetry book that I had ordered from alibris.com. My great-grandfather, Henry O'Meara, was sort of the un-official poet laureate of Boston, producing poems for monument dedications, weddings, funerals, historical and religious subjects. I plan on scanning Ballads of America and putting it on the Web. (It is up now.)
April 1, 2000
My latest April Fool page is up, the Real MAN Bicycle Saddle.

A busy day. The big milestone is that George got his drivers' licence; we're now a suburban family with 4 licensed drivers and only one car.

Put-in for Princess Ida, followed by the first rehearsal with the full orchestra.

Then, over to my niece's place in Charlestown for an early birthday party for my sister. A grand time was had by all.
April 3, 2000
The Real MAN page has had over 4000 visitors in less than 2 days! It's a hit!

E-Book: Gather Darkness, by Fritz Leiber, 1950

This is the first of, no doubt, many books read via my new Palm III. I downloaded it from "Peanut Press", an online publisher.

One of the earliest examples of the "post-apocalyptic" sub-genre. The post-catastrophe world is ruled by a feudal class of techno-priests, who keep the populace working and credulous by the use of scientific gimmickry dressed up in religious mummery. Not great, but OK.

I really like reading on the Palm. It's always ready in my pocket, ready to pop out and read a few pages whenever I've got a minute or five to kill. I find reading off the screen easier than print, at least when I'm wearing my bifocals, because the screen is small enough that it all fits into the field of view of the magnifying part of my glasses, so I don't have to keep tipping my head, as I do when reading a full sized book. The screen of the Palm III is not as easy on the eyes as the more expensive models, but good enough for now.
April 7, 2000
Opening night! Act 2 is running as I type "merrily ring the luncheon bell." We've got an excellent audience, particularly for opening night. The men's chorus has most of act 2 off stage, so I've been working on the Harris Web site and a new article on handlebar stems for Adventure Cyclist. I just LOVE having a laptop!
April 8, 2000
George's band Swing Thing played a set at Ryles again in the afternoon, it went well. I recorded it on video using Manfrotto monopod with legs.
April 9, 2000
Matinee performance of Princes Ida. Used idle time to continue html-ing Ballads of America.

E-Book: King of the Romans, by John Gorman, 1998

This is the second book I've read on my Palm III, from Peanut Press. Set in the 5th century, the first half takes place in Gaul, second half in Crete. The "King of the Romans" is the last Roman Procurator of Gaul, after the Western Roman Empire has fallen. An entertaining read.
April 15, 2000
At M.I.T., waiting for the penultimate performance of Princess Ida to start, I'm feeling like I'm partly living in the 19th century...Editing my great-grandfather's poems has put me inside of his head to a certain extent. (I'm about 2/3 of the way through the text, halfway through the images.) I found myself at the Newton library this afternoon, and got the urge to do more research. I discovered "The Massachusetts Collection" up on the top floor, and spent an hour or so perusing old volumes. I looked up "Joyce" and "O'Meara" in the archives of the New England Genealogical Register, found an inquiry from my uncle Warren looking for info on Maria Meade, my great-great-grandmother (mother of Henry O'Meara.) I also found a listing of Massachusetts soldiers in the War of the Rebellion. Nobody on my mother's side of the family served, maybe a bit too old. I didn't check the Bliss name yet. I did find a biographical sketch of Stephen O'Meara, which I've added to his entry in my genealogical software.

E-Book: The Hitchhiker's Guide To The Galaxy *****

This is a "fan fiction" extension of the Douglas Adams story, which I downloaded from somewhere and have been reading on my Palm III. Certainly not as good as the real thing, but entertaining nonetheless.
April 16, 2000
Just back from the end of the Princess Ida run and set strike. Kinda beat at the moment, but it was a fun production, even though I really disliked the director's modern-dress concept.

I'm in the home stretch of Ballads of America, just a handful of poems left to HTMLificate, though it turns out I missed a bunch of the images the first time through, so I'll have to do a bit more scanning.
April 18, 2000
Aaaarrrgh! The waterbed has sprung a leak! Major hassle...
April 22, 2000
André Previn guested, with his own recent Diversions for Orchestra, the Barber Violin Concerto and Mozart's Symphony #39.

Previn's piece was very pleasant, with lots of solo opportunities for the first deskers. The Barber featured Pamela Frank, (daughter of pianist Claude Frank.) in a dazzling green sequined dress. It was quite lovely. Frank seemed much more engaged with the orchestra than soloists usually are. When she wasn't playing, she mostly turned toward the orchestra, and you could see that she was grooving on the music.

It's probably a character flaw, but I've never much cared for Mozart, and this performance of the 39th did nothing to change my mind. To me it mostly sounds like mechanical music-box music, though I did get into the finale a bit.
April 23, 2000
Book: Lodestar, by Michael Flynn 2000

This is the third in the series begun with Firestar and continued with Rogue Star. It continues the threads and many of the characters from those books. Neither of the sequels is quite as good as Firestar, but they're all enjoyable.
April 26, 2000
I picked up a 1971 Raleigh Competition frame cheap from an unsuccessful eBay auction. It's a handsome black frame, all 531DB, and a very good fit for me. I've transferred the wheels from my "PX-7" to it and built it up. One of my fans had given me some gold anodized parts from an old French bike, and I installed the gold Stronglight crankset and gold Mafac brakes on it. The gold parts go well with the gold highlights on the frame, and the result is a very handsome bike. It's a sort of homage to the spirit of the Raleigh Sports, but with the 7-speed hub instead of 3, and superior materials all around. I had planned to keep the Ritchey 32 mm tires and install fenders, but that turns out not to be possible...insufficient clearance. For the nonce, I'll keep the tires.

I discovered that Kool Stop "Campagnolo" refills fit Mafac brake shoe holders!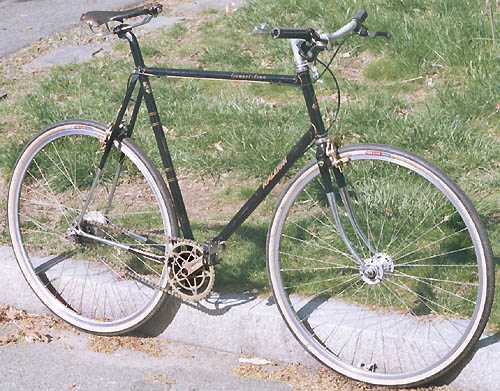 April 27, 2000
Ouch! I guess I didn't really need that wisdom tooth anyway...
April 29, 2000
Spring Revels at the Emerson Majestic Theatre.

This was an absolutely wonderful show, on an Acadian theme, using excerpts from Evangeline as a connecting thread. Act I was set in Acadia, ending with a lovely arrangement of A la claire Fontaine. Act II was set in Louisiana. Guest soloists included the P.E.I. band Barachois.
April 30, 2000
George is 17! We're basically the same height now, but I've got him beat in girth...

Went for a ride on the Raleigh Competition, first pleasure ride I've taken in some time. Went out to Weston and along the trail that follows (more or less) the West shore of the Weston reservoir. The roots kinda shook me up, but it was the first time I've been off-road this year.

Went out Ash street to Rt. 30, then down the long descent into Auburndale. I felt this strange unease, felt improperly secured, as if I were driving a car without my seat belt. Took a while before I realized that I was missing the familiar tug of the shoulder strap of the bag that carries my iBook...it's been several months since I rode anywhere without it!
Back to:

Plays:
November 29, 2002
Lorraine Bracco
The Graduate
November 23, 2001
Helen Mirren, Ian McKelln
The Dance of Death-August Strindberg
September 30, 2000
Tova/Black Box Theatre, Cornell University
The Maids-Jean Genet
May 30, 2000
Kelsey Grammer/Colonial Theatre
Macbeth
May 26, 2000
The Huntington Theatre Co.
King Hedley II
September 3, 1999
The Publick Theatre
Nine
August 21, 1999
Orange Tree Theatre, Ithaca, N.Y.
Sonata
August 13, 1999
Firehouse Theatre, Ithaca, N.Y.
Sister Mary Ignatius Explains it All For You
May 22-29
Newton South/North High Schools
Richard III
December 18, 1998
Newton North High School
The Bone Violin, May Flies
November 12, 1998
Newton North High School
To Kill a Mockingbird
Travels:
November 21-24, 2007
Plantation, Florida
September 25-28, 2007
Las Vegas, Nevada
August 18-25, 2007
Truro, Cape Cod, Massachusetts
November 22-26, 2006
Plantation, Florida
September 25-28, 2006
Las Vegas (Interbike)
June 10-20, 2006
Santa Cruz, California
May 5-7, 2006
Aurora, Indiana
November 23, 2005
Plantation, Florida
September 26-29, 2005
Interbike, Las Vegas, Nevada
August 26-28, 2005
'Bentride 2005, Bath, N.Y.
July 21-24, 2005
Family Reunion, Saratoga Springs, N.Y.
April 29, 2005
Cirque de Cyclisme, Greensboro, N.C.
February 16, 2005
Indianapolis
November 24, 2004
Plantation, Florida
October 8, 2004
Santa Cruz, California
October 4, 2004
Las Vegas, Nevada
June 8, 2004
France, England
December 22, 2003
Halifax, Nova Scotia
November 27, 2003
Florida
October 31, 2003
Potomac, Maryland
October 10, 2003
Las Vegas, Nevada
September 21, 2003
New York, N.Y.
November 27-30, 2002
New York, N.Y.
October 8-13, 2002
Evanston, Illinois
October 4-8, 2002
Las Vegas, Nevada
July 3-9, 2002
Canso, Nova Scotia
May 24-27, 2002
Long Island, New York
November 21-24, 2001
New York City
October 16-19, 2001
Cape Cod, Massachusetts
September 29-October 3, 2001
Las Vegas, Nevada (Interbike Show)
June 16-23, 2001
Nags Head, North Carolina
October 5-14, 2000
Evanston, Illinois
September 30-October 2, 2000
Ithaca, New York
June 22-25, 2000
Urbanna, Virginia
October 7-13, 1999
Chicago/Evanston, Illinois
August 19-28, 1999
Ithaca, New York
August 12-13, 1999
Ithaca, New York
July 23-25, 1999
Bridgeton, Maine
November 25-28, 1998
Fort Lauderdale, Florida
1988-89
France, England
1980
Yucatan, Mexico
1975
England, Belgium, Yugoslavia, Turkey
Since November 8, 1998
If you would like to make a link or bookmark to this page, the URL is:
https://www.sheldonbrown.com/org/journal/journal-0003.html

Last Updated: by Harriet Fell