Opinions and value judgments are our own, unless otherwise noted
-- Sheldon (d. 2008), Harriet, John.
Additions and corrections are most welcome.






Chain suck occurs primarily when downshifting under load from the middle to the smallest chainring. The bottom run of the chain may not immediately disengage from the middle ring, and can get carried upward until it wedges betwixt the chainwheels and the right chainstay.

This jams the crankset. Since you probably wouldn't have been shifting to the granny if you weren't already climbing, the sudden lock-up of the drive train deprives you of what little momentum you had, and you are very likely to stall and fall.

Chain suck is commonly caused by bent chainring teeth, dirty chains, or, occasionally, burrs on the teeth of new chainwheels.

Jonathan Levy has an extensive Web site about Chain Suck
A device used to adjust the chain tension when a bike with vertical dropouts is converted to use a single-speed or internal-gear drive train. Some of these use two pulleys, like a rear derailer that doesn't move from side to side, others use a single pulley. If used with a front derailer, a chain tensioner must be spring-loaded like a rear derailer. A chain tensioner cannot be used with a fixed gear, though other solutions exist -- see my article on fixed-gear conversions.
An idler pulley or sprocket fixed rigidly to the frame, generally on a slotted bracket, and used to adjust the slack (not actually the tension) of a tandem sync chain. This system is used on inexpensive tandems, as a cheap substitute for an eccentric bottom bracket. The pulley should be in the return (slack) run of the chain, for minimal wear and drag. See also John Allen's article on do-it-yourself tandems.
Chain tool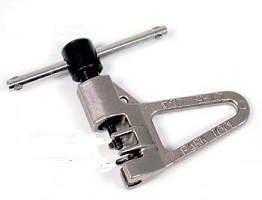 A tool used to press the rivet pin of a chain partway out of a link, in order to disconnect ("break") a chain to shorten it or to remove it from the bicycle.
A chain tool has traditionally also been used to insert a rivet pin to reassemble or lengthen a chain. Some narrow chains require replacement of a rivet pin instead, though many chains are equipped with a special link which can be disassembled and reassembled without pressing out a pin. For 1/8" inch wide chains, this is called the master link. The SRAM Power Link, Craig Super Link and KMC Missing Link work with chains on derailer-equipped bicycles. With the narrowest chains, options become more limited; the KMC is reported to allow repeated use with 10-speed chains.
Also see my article on chains.







If you would like to make a link or bookmark to this page, the URL is:
http://sheldonbrown.com/gloss_ch.html
Last Updated: by Harriet Fell