Traditional Thread-On Freewheels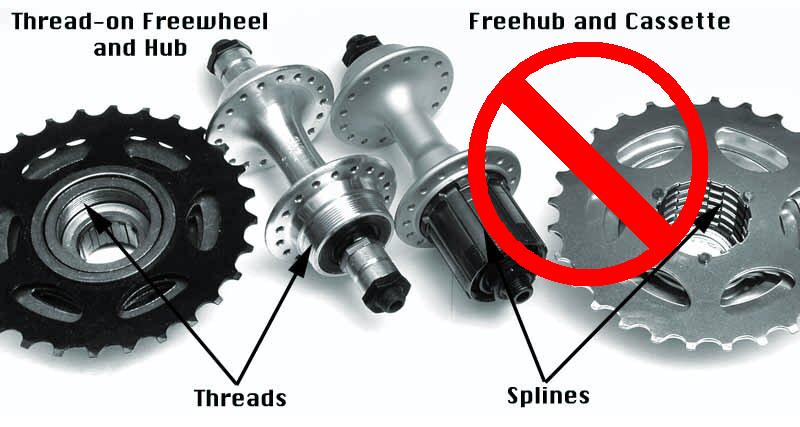 When you replace your freewheel, it is good practice to also replace the chain at the same time.
Compatibility Notes:
Threading

Freewheels shown on this page fit the threads of all standard freewheel hubs, with the exception of some older French hubs that used a different size .

Friction Shifting

Bikes made before the mid 1980s had "friction" shifting, where the shift levers move smoothly from one end of the range to the other, and only the rider's skill could get the derailer to line up properly with whichever sprocket was desired.

If you use friction shifting, any brand of shifter works with any brand of derailer and any brand of freewheel with any number of sprockets.

Indexed Shifting

With indexed shifting, the shift lever has a "click stop" that corresponds to each of the gear postions. This makes for easier shifting, but limits your options for mixing different brands of components.

Older SunTour spacing was very slightly different from other brands, but in practice, you can generally substitute modern freewheels of the same number of gears into a Sun Tour system and still maintain indexing. The superior tooth shape design on newer freewheels will often result in improved shifting despite the slight mismatch in index spacing.

5-Speed to 6- or 7-Speed

Hubs originally intended for 5-speed freewheels can be converted to use 6- or 7-speed freewheels. You will generally need to add a few spacer washers to the right side of the axle, building it up far enought that the cone locknut can reach the frame dropout through the wider freewheel body. You will need to re-center the axle but probably won't need to replace it with a longer one. You'll also need to re-dish your wheel , and probably re-space your frame. If you're fairly handy, this is not an unreasonable thing to do.

6 Speed to 7 Speed

If your bike currently has a regular-spaced 6-speed freewheel, you can generally upgrade to 7-speed with little trouble. Since the sprockets are closer together on a 7-speed freewheel, the overall width is only very slightly wider than a regular-spaced 6-speed. You might need to add a thin washer to the right side of your axle to keep the chain from rubbing the frame in the highest gear.

Mixed Sun Tour/Shimano Indexing

Sun Tour indexed shifters pull less cable per shift than Shimano systems use. Thus, generally, you need to match Sun Tour indexed shifters with Sun Tour rear derailers.

However, it turns out that Sun Tour 6-speed shifters index pretty well with 7-speed clusters if you replace the old Sun Tour rear derailer with a Shimano unit!

The mismatch in cable travel cancels out the mismatch between 6 and 7 speeds. There won't be a "click" for the lowest gear, but the derailer's low-gear limit stop will provide the "indexing" for that gear.

5-Speed Freewheels
For frames with 120 mm spacing.
Sunrace $16.95
Sunrace freewheels are of decent quality. Not as smooth as Shimano, but fairly reliable.

6-Speed Freewheels
For frames with 126 mm spacing.
Compatibility note! If your bike currently uses a 6-speed freewheel, it may be a good candidate for conversion to a 7-speed!

The sprockets are closer together on a 7-speed, so the overall width is only a tiny bit wider for a 7-speed vs a normal 6-speed. In rare cases, you might need to add a washer or two to the axle for clearance in the smallest sprocket.

If your bike has friction shifting , it will definitely work with either 6 or 7. If you have indexed shifting , generally you would need to replace the shifter.

Surprisingly, though, if you have Sun Tour 6-speed indexed shifting, you can convert to 7-speed using your present shifters! All that is needed is to replace your old rear derailer with any Shimano unit. Shimano vs Sun Tour indexing is different, but the mismatch in brands turns out to cancel out the mismatch 6 vs 7, so this actually works pretty well! The low gear position won't have a "click" in the shifter, but the derailer's low-gear limit stop will provide the "indexing" function for the low gear.
Shimano 6-speed Hyperglide Freewheels $19.95
14 - 15 - 18 - 21 - 24 - 34 "Megarange"
"Alpine" design, with closer spacing between most of the sprockets for efficient cruising, and the huge 34-tooth "bail-out" gear for the tough hills!

7-Speed Freewheels
For frames with 126 mm or wider spacing. These will generally work on hubs made for 6-speed freewheels, sometimes with the addition of a washer or two.
Shimano 7 speed Hyperglide thread-on freewheels
13 - 15 - 17 - 19 - 21 - 24 - 28 FW722 $21.95

Excellent general-purpose freewheel. Almost any rear derailer will handle the 28 tooth big sprocket.



SunRace thread-on freewheels

A List of Freewheel Manufacturers, Past and Present:
Shimano Freewheels
Shimano freewheels are by far the best value going. These are still in production, and their Hyperglide design makes them shift better than all others.
SRAM/Sachs Freewheels
SRAM (Formerly Sachs) freewheels were well made and durable, but have been discontinued by the manufacturer.
SunTour Freewheels
SunTour freewheels were very high quality, very long lasting and pretty good shifting. SunTour(Japan)has been out of business since the early 1990s.
SunRace Freewheels
SunRace freewheels are made in Taiwan. Decent quality, good value.


This site was established December 4, 1995...
We were the first southern New England bicycle shop with a Web site!
URL: http://harriscyclery.com/freewheels
Copyright © 2005, 2008, 2010, 2012 Harris Cyclery