In West Newton Since 1952 - On The Web Since 1995
Hub Parts from Harris Cyclery
We ship hard-to-find parts, tools and accessories all over the world

Axles
Axles are now on a separate page. Click here!

Bearing Balls
Cartridge Bearngs

Cones
Replacement cones, especially for older hubs, can be difficult or impossible to obtain. There are too many variations of them, mostly incompatibility with one another.

If you are a local customer, and can come into the shop, bring the old cones and the axle with you when you come. If you don't bring all of these parts, we won't be able to help you.

If you cannot make it into the shop, you may be able to find a usable match via our link to Hub Parts from Quality Bicycle Products

We cannot offer any guarantee that the cone you order will match your hub, and special-ordered cones are not returnable.

Freehub® Bodies

Skewers
Velo-Orange QR Skewer set (Front & Rear) QR1000 $18.00 set
A reasonably light, well made set with internal cam.

The acorn nut, the one without the lever, is alloy, but it has a chrome steel face pressed on for better grip and durability. It also has a nylon insert to prevent loosening.
The other end also features an alloy housing, however the lever and cam are chromed steel so they won't break when you over-tighten them.

For 130-135mm rear spacing; 100mm front. Sold as pairs, front and rear, only. 135g per pair.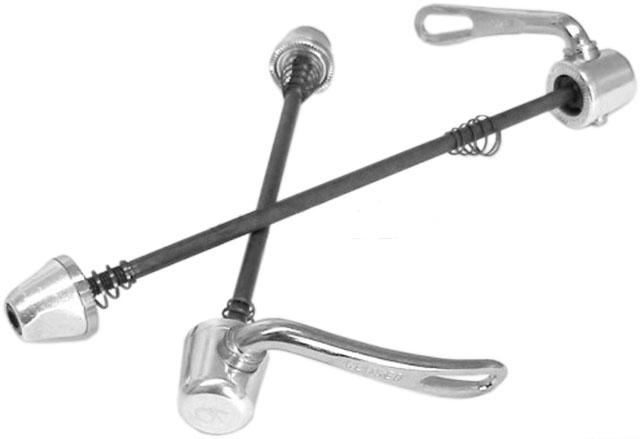 This page since December 18, 2001
If you would like to make a link or bookmark to this page, the URL is:
http://harriscyclery.com/hub-parts.html
Copyright © 2005, 2008, 2010, 2013 Harris Cyclery