In West Newton Since 1952 - On The Web Since 1995
26 inch (ISO 559) Wheels from Harris Cyclery
The wheels shown on this page are the decimal "26 inch" size used on almost all mountain bikes and cruisers. They are not interchangeable with "26 inch" wheels that use a fraction instead of a decimal to indicate the width.
We ship hard-to-find parts, tools and accessories all over the world

Stock 559 Wheel Sets
Singlespeed
Internal Gear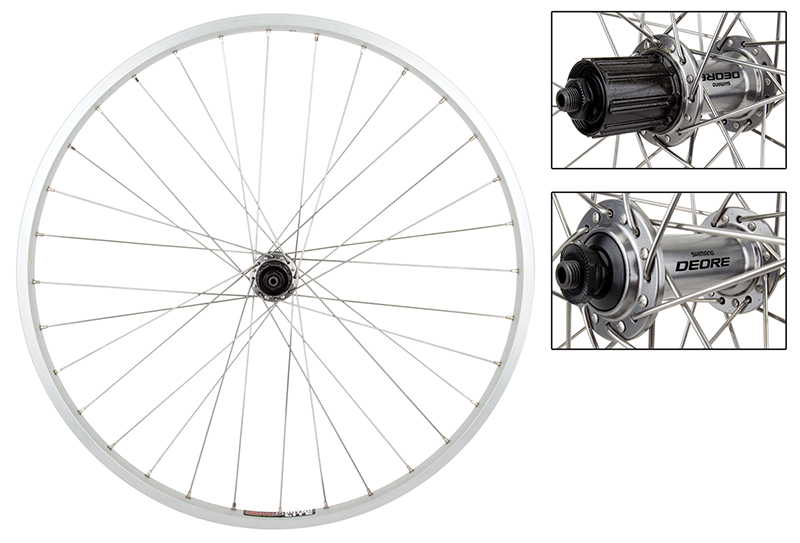 WE464 26"(559) 8-/9-speed "Brutal Beast" MTB Wheelset $144.95 pair!
These heavy-duty wheels feature:

Shimano M590 Shimano Deore hubs (Non-disc)
32 DT 2.0 mm (14 gauge) stainless steel spokes
The redoubtable Sun Rhyno Lite rims (pinned)

Resistant to small-caliber firearms!
Internal Gear wheels are listed on our Internal-Gear Page

Fixed gear wheels are listed on our Fixed Gear Page

Singlespeed wheels are listed on our Singlespeed Page

If you would like to make a link or bookmark to this page, the URL is:
http://harriscyclery.com/wheels/559.html
Copyright © 2005, 2007, 2011, 2012 Harris Cyclery