Bicycle Trailers from Harris Cyclery

The Adams Trail-A-Bike!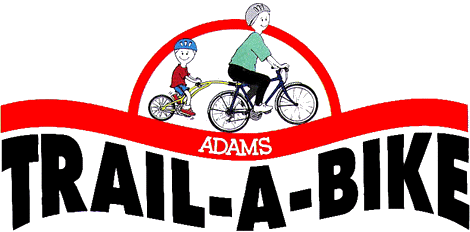 These "half-bicycle" trailercycles allow even a small child to
share the exercise and accomplishment of cycling with a parent.
If you are in range of West Newton, Massachusetts, you can come in for a test ride...but, be warned, after you do, your child will probably insist that you buy one!

The Adams Hitch
Adams Trail-A-Bikes feature a large sturdy universal-joint hitch, which does not rely on the lead bike's seatpost as a bearing surface, as many lesser imitations do.

Please note that the 1998 and later Trail-A-Bikes use an improved, enlarged hitch coupling, which is not compatible with the older version.

Adams Folder Trail-A-Bike
An all new entry level model featuring Trail-A-Bike's clever folding frame design

A Patented top tube radius that fits most 26" and 700c wheeled bicycles

Junior sized contact points pedal, grips, handlebar and saddle for more comfort

Integrated chain ring protector for no mess and safer storage and transportation

Proven steel hitch with three shims to fit most bicycle seat posts
Permanent flag attachment

Limited lifetime warranty on frame

Weight limit = 85 lbs
The basic Adams Folder model features a single-speed freewheel.

Sorry, we no longer ship complete trailercycles, please drop by the shop.

Colors shown might not be current.

Folding Your Adams Trail-a-Bike:
1. Flip the Quick Release

B. Remove the Seatpost

III. Fold the Frame

You're Done!

Safety
Many parents are fearful that their chilren may fall asleep and fall off. I have done some research on this, surveying readers of relevant internet newsgroups and the tandem@hobbes mailing list, to find out how real a problem this was.

Despite many reports of what were perceived as "close calls", nobody had actually heard of a single instance when a child had fallen asleep and fallen off of a kidback tandem or trailer cycle. Only a single occasion of falling off was reported, and this was the result of horseplay, rather than drowsieness.
Adams Hitch versions:
First Knuckle (1997 and earlier version)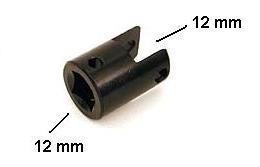 The Adams hitch has been gradually improved over the years. The early versions are no longer available, so if you have an older Trail-a-Bike and want to buy a new bike receiver, you'll need to upgrade to the new, improved style (the new version is a good deal solider and stiffer than the older ones.)

To convert an older Trail-a-Bike, you need to replace the "knuckle" (the part with the hollow square hole) with the new version.

1997 and earlier model 12 mm square.

1998 model 15 mm square, vertical lock pin

1999 and later model 15 mm square, horizontal lock pin
Telling the size of your square coupling:
The 1997 and earlier size was 12 mm (12.7 mm to be exact)on a side, new improved (1998 and later) version uses a 15 mm square. You don't need a micrometer to tell the difference, a penny will do the trick! If you can fit a penny into the square hole, it's the new 15 mm size.

If your trailercycle uses the old 12 mm (1997 and earlier) version, you won't be able to fit the coin into the hole. You can upgrade to the current system by buying the parts listed below.

NOTE: The fastening nuts and bolts are not included and not available from Harris. Check your local hardware store.

If you have the following
Need to Purchase following
12mm horizontal pin

(1997 & Earlier)

15 mm-12mm Step Down Block
AD002

$18.95

1st Knuckle for 15 mm horizontal hitch
AD003

$15.95

Block sleeve hitch
AD001

$26.95

15 mm Vertical pin

(1998)

1st Knuckle for 15 mm horizontal hitch
AD003

$15.95

Block sleeve hitch
AD001

$26.95

Block sleeve hitch

15 mm Horizontal pin

(1999 and later)

Block sleeve hitch
AD001

$26.95

Replacement pin
Hitch Pin, Clevis Type
AD004

$7.95

If you're in Great Britain, you might check out: Bicycle Trailers

We ship hard-to-find parts, tools and accessories all over the world

If you would like to make a link or bookmark to this page, the URL is:
http://harriscyclery.com/trailers.html
Copyright © 2005, 2008, 2011, 2012 Harris Cyclery